Middle Cottage Guest Comments



Date of arrival




Name




From

Guest Comments left in our guest book at Middle Cottage

11 Dec 2021

Penny & Mark and dog Lucky

Fishguard

Finding the tiny Japanese restaurant in the mumbles - Cha-Ty




Thanks for the lovely week in a cosy cottage, Lucky particularly enjoyed having his own sheep to bark at !

27th Nov

Cherie & Paul Savage and 4 dogs

Doncaster

Beach walks as always ! Thanks again for a lovely stay the cottage was so perfect as always can't wait to until next time lovely to meet Betty & Frank

30th September 2021

Rob & Elaine Knopp

Wroughton Wilts

After several years we are still finding new fabulous walks,. Broughton Burrows is a must absolutely stunning views. We always take a picnic….yes even in the colder weather Our Dylan Dog loved it too. Thank you Dai & Heather for another lovely week and thank you for the wonderful welcomne even if I did fall over the sofa after haha

😊

Was nice to meet Frank the Tank (Corgi Puppy) and his litter sister Betty xx

23 Oct 2021

Hazel and Judith (Penny & Meg)

Staffs./Cotswolds

Sheep on the Roads Ponies in the village lovely shop with pastries! In the village friendly staff as well. Thank you for our welcome break in your lovely little cottage especially the secure harden for the girls. They too as you say are "family" and have enjoyed off the lead beach walks so we need to erxplore further afield Thanks again nice to meet you at last Take care H&J (M&P)

16/10/21

Paul & Rebecca

Leics.

Welsh ponies on the green in front of the cottage at 4am Rhissili Beach, Stunning. Firstly thanks to Dai and Heather for your understanding with various bookings (covid) An amazing little super equipped cottage from which to explore the local stunning area. Thank you hope to see you again we'll have that beer next time Dai !

2nd Oct 2021

Rhona and Hadrian

Sutton in the Elms, near Leics.

Drinks with the Howells of course and Frank the Tank !!




Home from home ~ we absolutely loved our time at Middle Cottage & Llanmadoc.. until next time..

18/09/21

Yvonne & Alma

Essex/Glouc

The vast expanse of Whiteford deserted sands. Pasty's from the village shop,. Walking on the Woods at Natural Resources Wales Penrice . Perfect cottage for dogs (and us) secure garden, walks to the beach even the weather played the game. Great week Dai and Heather What fun! So good to meet Frank the Tank - he's the man

(Dai and Heathers Added Note > Frank the Tank is Dai and Heather's new (tricolour) Corgi Puppy – so called because he caused mum to have a cesaerean birth being the largest of 6 puppies in the litter. He has since been joined by the baby sister from the same litter "Betty" a traditional ginger Corgi). NB: Corgi means "Dwarf Dog" in Welsh - "Corrach" being the welsh word for Dwarf and "Ci" being the welsh word for dog.)
| | | | |
| --- | --- | --- | --- |
| 11 Sept 2021 | Colin and Helen | Somerset | Walk from Caswell & Langland and return. Free roaming sheep, swimming at Caswell & Port Eynon. Meeting Frank The Tank – he's gorgeous ! Many thanks for your loively welcome of drinks on the patio. We thorogughly enjoyed the local area including the pub & the lovely sights round and about. Cottage was well equipped and we had everything we needed. Lovely week, don't forget to stop by if you're near Sanders Garden Centre |
| 4th Sept 2021 | Carole David & Lexi | | Long Walks with the dog along Broughton Beach every day and around Cwm Ivy Nature Reserve. See wild ponies. Trotting through the c village loving the sheep everywhere !! We didn't go anywhere else, just relaxed and walked round llanmadoc and surrounding area, it has everything we could want to recharge our batteries and a friendly pub with good food. Than you sop much Dai and Heather for a fantastic week in your lovely cosy cottage. The living room at night with the big stone fireplace and fairy lights was a particular favorite of ours. Thank you for drinks on your patio and |I hope your cats accept Frank The Tank, he looks really cute and a lot of fun ! xx |
| 28 Aug 2021 | Amanda Daniel Leys and Wally | London | Seeing the wild horses outside on post office green one night before bed, doing swims in the sea, lovely walks on marsh. Thank you Dai and Heather for making us feel so welcome and for providing such a comfortable and well equipped kitted out cottage. For sure we will be back! Take Care A, D, L & N |
| 7 August 2021 | Jen Riley Maine and dogs | Brighton | Paddle Boarding, Kayaking, The Dolphin Trip, Spending time with each other and with Heather & Dai. Thank you for a wonderful week. You are very welcoming and generous hosts.. You have kitted out the cottage very thoughtfully and comprehensively which makes for a really easy stay. We won't be leaving it another 4 years this time. Lots of love Jen X |
| 3 July 2021 | Deb & Gwynn Thomson | Edinburgh | So Many ! Swimming at the Blue Pool and the walk from Llanmadog All spectavular coastal walks Worms Head is aa MUIST! The sight of 10 wild ponies running on the beach at night , friendly locals. We have absolutely loved our stay in "Midfdle Cottage" and many thanks to our fabulous hosts Dai and Heather who made sure our stay was perfect. The Gower has surprised us all with its beauty and we will be longing to return to this magical place. The Thomson Family, from Edinburgh X |
20 June 2021

Liege, Michael Bagnall

Northumberland

Wedding, Whisky Distillery, The Mumbles & Beach Walks. Wonderful visit to Wales. Thank you for letting us stay in your lovely house.

12 June 2021

Clare and Tony Knight

High Littleton Nr Bath

Walking down past Cwm Ivy for a walk on the beach every afternoon with the dog. A chilled well spent in this lovely cottage, highly recommended |Cwm Ivy Café & the local pub local shop is great but make sure you go when it opens if you need bread/milk etc

5th June 2021

Jo & David Grantham

Banbury,

Walking down the lane, through Cwm Ivy through the woods and the dunes to the magnificent beach with the dogs. Great stay in a great cottage and usual. See you in August!

2nd June 2021

Ian Laura Alex and Jack

Oxford

3 Cliffs Bay amazing as ever. But the walk to Broughton Beach on the doorstep is lovely too. Coffee and the view at Cwm Ivy Café. Thanks for everything as ever. Lovely hosts. Perfect cottage, wonderful village.

29th May 2021

Malcolm, Nicole, Sonya and Caroline

London

Walking along the coastal path

going to the seaside

going to Worms Head

Going to all the pubs nearby

Thank you so much for this great stay and there was everything we needed.

22nd May 2021

Lucy & Tom

Surrey

Walk around Cwm Ivy headland finishing with café at Cwm Ivy ! Walk through Millwood (near Oxwich)




Walk from Eddy's Café (Hillend Llangennith) to Rhossili




Dinner at the Britannia Inn, King Arthur Hotel, Beach House Oxwich. Thank you Dai and Heather such a lovely stay n a great cottage. So many great walks good food lovely area. We will be back.

15th May

Cherie & Paul

Doncaster

Rhossili Beach, Oxwich Beach, searching in rock pools @ Port Eynon. Lovely |Cake @ Cwm Ivy. Lovely stay as always – dogs love the beaches plenty of places that they can be let off their leads for a run and plenty lovely lead walks that they can enjoy too so best of both worlds. Love the new bathroom & renovations. Cannot wait to come back! We missed it last year !

8th May 2021

June & Jo

Dorset

Kidwelly Castle, lovely visit. As ever cottage well equipped, new bathroom is lovely. Message to dog walkers, if your dog chases sheep keep on a lead at all times as sheep are everywhere – beach, sand dunes – woods, quite disappointing for walking.

(Owner adds - most guests leave their dogs go off lead down on Llanamdoc/Broughton beach which is a 3 mile expanse of sandy beach from Broughton at one end of it in the west to the Llanmadoc Beach and then out to the Lighthouse or Birdhut at Landimore Pill 3 miles further east around the Whitford Bay. The tide movement between low and high tide on this shallow shelving sandy Bay is perhaps one mile from low water poing to high water depending on spring or neap tides, so most guests really dont have any problem finding plenty of space and opprtunities for dogs to run free. But there are fields with sheep in on the lane approaches to the beaches and there are some roaming animals (sometimes herds of welsh black cattle, sometimes ponies and sometimes sheep) at times both on the dunes and local lanes and in the village itself so yes please use good judgement when your dog can be allowed to run off lead. Most locals take their dogs to the beach on their leads then let them run free into the waves and you are usually at least 1km away from any roaming animals once well onto the beach.)

The local farmers allow sheep to graze the beaches and dunes but not all year around. Its pot luck what might be down there on any given day. However bear in mind that unlike our local beach here in North West Gower, most South Gower beaches generally do not allow dogs at all, less still off their leads.

03/05/21

Alasdair & Tracy

Churchdown,GLOUCS

Out of the wind walking around Cwm Ivy to the Britannia for a beer. As ever the cottage is lovely with all you need. An excellent renovation to the bathroom. All the best for the future.

24/4/21

Angie & Paul Andrews

Borough Green, Kent

Walking round Cwm Ivy Headland. Lovely |Walk through the nature reserve and along the beach with Skylarks serenading us along the way. Beachcombing on Broughton Beach Fantastic walks for our 4 legged friends. Thank you Heather and |Dai for a lovely week at Middle Cottage. Cottage is cosy and very well equipped with everything you might need during your stay. Very friendly owners who are just next door if you need anything.
| | | | |
| --- | --- | --- | --- |
| Date | Name | From | Guest Comments in our guest book at Middle Cottage |
| 24th Nov 2019 | Jo and Dave Grantham | Banbury, Northants | Another Great week with the dogs on Broughton beach. Lots of seagull chasing (dogs) and pub lunches (us). Its always a warm welcome from Dai and Heather (and a very tasty curry) see you in the New Year. |
| 28.10.19 | Jess Phil and Theo Collins | Dunsford near Exeter | Thank you Dai and Heather for your very warm welcome and a peaceful stay in your cosy and comfortable cottage, all perfect such a variety of beautiful atmospheric walks close by, so much interesting wildlife and scenery - we would love to come back. With a shop and pub and café so nearby its been so restful to spend a few days just being here without having have to get into the car at all apart from a nice meal at the King Arthur in Reynoldston. Thanks for the delicious curry so thoughtful of you hope to see you again. |
| 5 Oct 2019 | Jo and David and the dogs | Banbury, Northants | Another lovely stay in my favourite place in the UK. Had a great week despite the weather. Managed to spend a fortune shopping in Mumbles. Dogs seriously knackered on Broughton beach as always - Dai & heather fab hosts we'll be back. |
| 21 Sept – 1st Oct | Debs & Andy Caton | Selston, Nottinghamshire | Lovely stay at Middle Cottage thank you Heather & Dai |
| 7.9.19 | Lynne Martin Billy and Pepper | Ross on Wye | Had a great week thank you weather mixed but fair bit of sunshine Lovely walks from the cottage fabulous quiet beach and nice run along the coastal path,. Can recommend the food at the Britannia Fish and Chips at Roma (Penclawdd), and cuppa with amazing view at Cwm Ivy., Cottage had all we needed thanks both hope you enjoyed Salzburg. . |
| 14.9.19 | Doug, Annette, Sophie and Tony | Norfolk | A lovely stay thanks for everything you have been so helpful thanks again. |
| 27.7.19 | Meghan and Clive Herron, Ian and Carrie Tylie | Radstock, near Bath, Somerset | Great holiday Ted and the Dogs spent most of the time in the sea, we will be back. |
| 20.7.19 | Ann and Brian Green | South Yardley, Bristol | We all had a lovely holiday everything we needed and more many thanks. |
| 29.6.19 | Nick and Libby Marshall | Painswick, Stroud, Gloucs. | Another fabulous 2 weeks at Middle Cottage everything we could have wanted, many thanks. |
| 15-21 June 2019 | Mark Rachel and Dylan Rafferty | Nottingham | First time in Gower had a lovely time perfect cottage had a great time exploring hope to be back soon thanks for the wine. |
| 8-15th June 2019 | Jo & Dave Grantham | Banbury | Middle Cottage great thanks to Dai and Heather Bo and Nerva loved it too. Not sure Bo's liking for welsh men (hee hee) is improving though see you again soon. (Bo is a rescue dog and very nervy). |
| 25th May 2019 | Sara & Steven Barnard, and Hannah and Charlotte | East Sussex | Our first visit to the Gower we loved it. Wonderful beach and lovely walks lots of fresh air so totally shattered kids and dog, loved the cottage perfect location. Thank you. |
| 18th May 2019 | Jan and Alan Burgess, Maisie and Bertie the dogs | Market Drayton, Salop | Perfect home from home. Thanks for the wine and milk much appreciated,. Lovely relaxing week in this very special cottage. Lovely weather too. We will definitely be back. Thanks so much for letting us stay. |
| 4th May | Alison Fox, Ian Summerfield | Bucks | Perfect location to meet friends and enjoy the wonderful Gower. Our dogs are also worn out. |
| 27th April | Sue Stu Barr, Vinnie and Bailey | Yardley, Birmingham | We've now been to all three of your beautiful cottages and again we've had a fabulous time. Hank you we will be back again to your beautiful part of the country. Dogs totally worn out. |
| 13-20 April | Nick and Libby Marshall | Painswick, Stroud, Gloucs. | We had another wonderful time here in the Gower and at Middle Cottage it is home from homer. Many thanks Dai and Heather |
| 1 April | Alastair, Sally Fuillwood and the two spaniels Rhum and Eigg | Aboyne, Aberdeenshire | Very accommodating for dogs and a baby lovely cottage owners very welcoming lots of info available good local knowledge enjoyed the Gower once again. Thank you. |
| 27th – 31st March 2019 | Andrew and Paula Mackenzie and penny the dog | | Comfortable and cosy, lovely walks in lovely weather. Thank you. |
| 2-9 Feb 2019 | Mick and Jenny Biggin | Bonsall, Derbys | Despite storm Eric, we have had a magical family reunion in this gorgeous cottage how could we fail. It has been such fun exploring the Gower but inevitably we must return to finish and also invade the Britannia again. Thanks so much Dai and Heather such comfort take care and keep smiling. |
| 29th Dec 2018 | Sally and Lionel Legge and Riley the Dog | | Ideal place to stay beautiful walks fab food in the Britannia and a relaxing stay in Middle Cottage many thanks. |
| 1-8th Dec 2018 | Katrina and Tim Cooper | | Thanks for a lovely stay. |
|   | | | |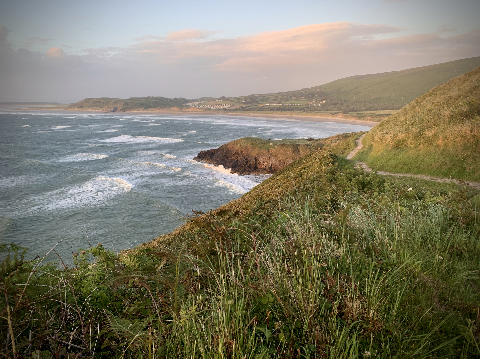 (Above photo is taken summer 2020 and was taken from Black Rock which is on the western end of Broughton Bay looking east across Broughton Beach and Whitford/Llanmadoc Beach in the left hand distance. Our cottages are located in Llanmadoc Village which in this photo would be bang centre of, and three quarters up the top of the picture - just above and behind the visible caravan site).


DEAR POTENTIAL GUESTS

THE ABOVE ARE THE MOST RECENT DIARY REVIEWS LEFT BY OUR GUESTS - WE HAVE NOT LEFT ANY OUT THEY ARE VERBATIM
DAI & HEATHER WILL TYPE UP FURTHER REVIEWS DURING CALENDAR YEAR 2018 WHEN HE FINDS THE TIME

 

Who

When

Comments left in book were (typed out verbatim)

Alison & Gareth Williams

(Killay Swansea)

25/11/17 to 1/12/17

A charming and cosy cottage that was a haven to us being a stressful time between homes house sold and purchase being problematic. We love Llanmadoc and we really loved being temporary residents. Thank you.

Viv and Ed West

30th Sept – 7th Oct 2017

Great relaxing week lovely cottage quiet location Rosie the Rotty now shattered she loved the sand kept roiling in it. Lots of walking form the door we will be back thank you Dai and Heather.

Caroline, Steve Clayson and dogs (Gloucs)

9th Sept-16th Sept 2017

Another lovely relaxing week. Ive lost count of how many years we have been coming now. But every time is amazing. Out three dogs think its their second home. Dai and Heather helpful as ever.

Brenda James (Llanelli)

2-9 Sept 2017

As always a great place to stay and recharge my batteries, Weather very mixed but we walked every day and my dogs Bella dn Freddy love their walks. I think this is my fifth visit here and I will be back. Thanks Dai and Heather

Caroline and Glynn Downs. (Cardiff)

19th August 2017

Another lovely stay the poodles are going home for a rest see you in October.

Liz Andrew Balham and Digby (Hereford)

5-12th August

Thank you for a lovely holiday in this amazing cottage. Digby loved the walks weather was kind.

Suzanne and John Allen (Staffs) and Ghillie the dog

8-15th July

Another lovely weeks stay in Middle Cottage lovely long walks on the beach every day very dog and people friendly growing to love this part of Wales.

Maureen and Roy and Goldie

24-30 June 2017

We have hjad a great week. Beaches fantastic. Super walks Enjoyed Three Cliffs Beach. Britannia Inn and Village shop both top rate. Cottages very comfortable and cost. Garden exceptional for the dog. Thank you.

Lorraine and Trever Roberts

3-10 June 2017

We enjoyed our stay in Middle Cottage mixed weather great scenery and walks.

Sue Paul and Flo (Irish Setter)

13-20th May 2017

First stay and it will not be the last. Beaches for miles. We hardly used the car just walked and walked what a great place for dogs and their lucky owners. Yes the Brit and local shop are excellent. If you are here for the weekend try a stop at Cwm Ivy that's a good way to walk to the beach as well past Cwm Ivy and either through the dunes or the fir trees. Weather mixed but who cares with views like this.

Tony and Gill and Tullulah

15th April 2017

Our third stay in Middle Cottage is testament to the way we feel about it. Thanks for the hospitality. Thanks to Jan and Neil for the clean welcome. Dai thanks for the hospitality does Heather exist? Jobs to keep you busy. Oil hinges on bathroom door. Toilet roll holder required.

Dick and Annette

4th Nov 2016

Thank you we have enjoyed staying in your lovely cottage and the garden was ideal for our dogs. Best wishes Dick and Annette.

and C

Paul and Catherine Hawkins of Somerset

24th Sept 2016

We appreciated the cosy warm and well equipped cottage as the damp days of autumn begin. You have been very imaginative in the way you have prepared for guests. Thank you.

Dave and Bernie

14-21 Nov 2015

A nice and cosy cottage with all the facilities you need - even with hurricane Barny blowing it was great to find a place that is so dog friendly as well.
Sandra Malcolm and Perry the Afghan.
Norwich
Lovely area Fab beaches very friendly people made us feel really welcome wherever we went. Village pub great food The Kings Head in Llangennith great food & Breakfast!! Both pubs Dog friendly (Hooray!) Just loved it here J P.S. you must have tea and cake in the Village Shop xx
Jo & Fred Smith (And Freya the Cocker Sp)
Cannock
 
All the above. Bed very comfortable. Food also excellent at the Greyhound – dogs allowed in the bar.
Jenny and Phil (& Poppy)
Herts
What a great place to stay! The facilities in the cottage are excellent. When you first step through the door you're enveloped with a feeling of warmth and friendliness. The beaches are the area are unspoilt and very quiet. Now to the village shop – well! from the cakes to the guides and pasties everything is fab!! (Including the ladies!!)
Wendy and Jennifer Amy Sophie Cocker Spaniels
Balsall Common, Coventry
The Cottage is perfectly situated for exploring the stunning Gower Coast. Super Village shop with all your needs. (Cakes!!) A pleasant stroll to the beach - refreshments at the Gower Pantry (little café near Broughton beach at Lagadranta Farm), excellent. A very friendly village.
Caroline Glynn Alfie and Mabel.
Cardiff
Lovely cottage! It has been a lovely holiday – very restful and refreshing. And the dogs are exhausted. We will be back. !
John Helen Julia and Monty the dog
Berks
The cottage is perfectly situated for exploring the coast and countryside and a cosy haven when the rain comes in! A week of all weathers form beach to BBQ clear blue skies sunshine dampers and gales, Middle Cottage had something for every eventuality. Food in the Public bar at the Britannia (who allows dogs) was very good and the Mermaid in Mumbles was a very up market establishment who welcomed Monty Many thanks to Heather and Dai for their hospitality.
Claire Martin Esme Alana & Lottie
Bristol
We had a great time here lovely cottage. Fantastic beach walks with the dog and good time in the Britannia Inn. Great location…shame about British summer weather !! Take a walk up the hill behind the house for fantastic walks.
Steve, Anne and Dino and Dodge the dogs
Kington, Herefordshire
Fantastic cottage every here you need, Village friendly Great place for walking the dogs beaches are amazing would recommend Llanmadoc over the hills to Rhossili then return via the beach but make sure you catch the tide right !! Steve very happy with Sky & Internet.
Peter Val and Jake
Denbighshire
As everyone has said all the local eating places fantastic. Very happy with come again. Thanks for a great stay Dai and Heather, Very comfy beds and the cakes in the Village Shop are a must to have. Thank you both for a comfortable well presented well equipped cottage which is in an attractive and convenient location to enjoy the very best of the area What a splendid community! What amazing beaches! Certainly no shortage of good food and ale within easy reach. Excellent walking opportunities.
Marion, Maurice & Christine
Ruislip
Lovely cottage in a fabulous location. Very comfortable and well provided. Lovely walks and very friendly bus drivers.
Ed and Donnette
Penzance
Thanks Heather and Dai for your hospitality and for arranging for this wonderful weather for our two weeks in Llanmadoc. Hope you enjoyed your med cruise and also same good weather wine and food (no we didn't it rained!!) …and thank you Dai for recording the Eng v Wales Rugby which I very much enjoyed (L) we think Llanmadoc and the whole of Gower wonderful.
Caroline and Steve , Millie Cassie and Charlie (Pawprint)
Gloucester, Gloucs.
Lovely Cottage and garden, The village was lovely as always, amazing beaches Llanmadoc Hill is a must for views and great for running on with a dog , local café is so friendly with tasty cakes J which is perfect end to those long walks. Hopefully see you next year Dai and Heather.
Jules, and Martin, Bert & Ernie,
England
Fab Fab Fab cottage and very safe garden! The local pub was very very friendly and the food was great. The best beach was Rhossili then Caswell Bay great walks at Penrice (Oxwich). If you love food I would recommend the King Arthur in Reynoldston but the best place we found was the "Welcome to Town Bistro" in Llanrhidian! Brilliant, it is a MUST ! * Thank you to Dai and Heather for a great week away. !!
Dave & Bernie
Shirley, Solihull
A nice and cosy cottage with all the facilities you need. Even with hurricane Barney blowing it was a lovely break. Great to find a place that is so dog friendly as well.
John & Ann
Bristol
Thank you both for a cosy and comfortable stay in Middle Cottage!
Susanna and John
Gloucestershire
Lovely cosy dog friendly cottage. Fish and chips are amazing. Wished we had booked for 2 weeks. Fantastic dog friendly beach, very safe See you again J
Caroline & Glynn and Mabel and Alfie the Poodles.
Cardiff
Second time here lovely and relaxing, as always! See you in October.
Catherine
Somerset
We appreciated the cosy warm and well equipped cottage as the damp days of autumn begin. You have been very imaginative in the way you have prepared for guests, Thank you P & C
Tony and Gill
Forncett St Mary, Norfolk
Heather & Dai, Thank you so much. Appreciate you mending the bath plug!! See you next year. Oh, close sighting of a Chough on the Bulwark. Tony, Gill, Tallullah.
Dick & Annette
Eversham, Worcs
Thank you ! We have enjoyed staying in your lovely cottage and the garden was ideal for our dogs, Best wishes, Dick and Annette Judge